Try our unlimited data, for free.
We're big fans of our unlimited data, messages, and minutes for as little as $25/mo wireless service, and we think you might be too. So, grab your iPhone and take advantage of our 15-day free trial to see how our network, powered by Verizon, performs in a head-to-head competition with your current network.
There's no credit card required, and everything you need to get started is already in your iPhone.
Grab your iPhone
Start by scanning the QR code below to see if your iPhone is eligible for the free trial. Not eligible to test the network? Check out our latest deals—you might just be convinced to switch on the spot.
Start by downloading the app through the link above to see if your iPhone is eligible for the free trial. Not eligible to test the network? Check out our latest deals—you might just be convinced to switch on the spot.
Start with a trial number
Follow the setup instructions and get your trial number. We'll make it easy to navigate testing Visible with your new number while still keeping your old one.
Experience Visible
Get the full experience! Stream the shows you love while staying connected with our coast to coast coverage.
Make the switch
Love Visible? Make the switch! We'll help you easily become a member with either your new number or the one you have with your current carrier.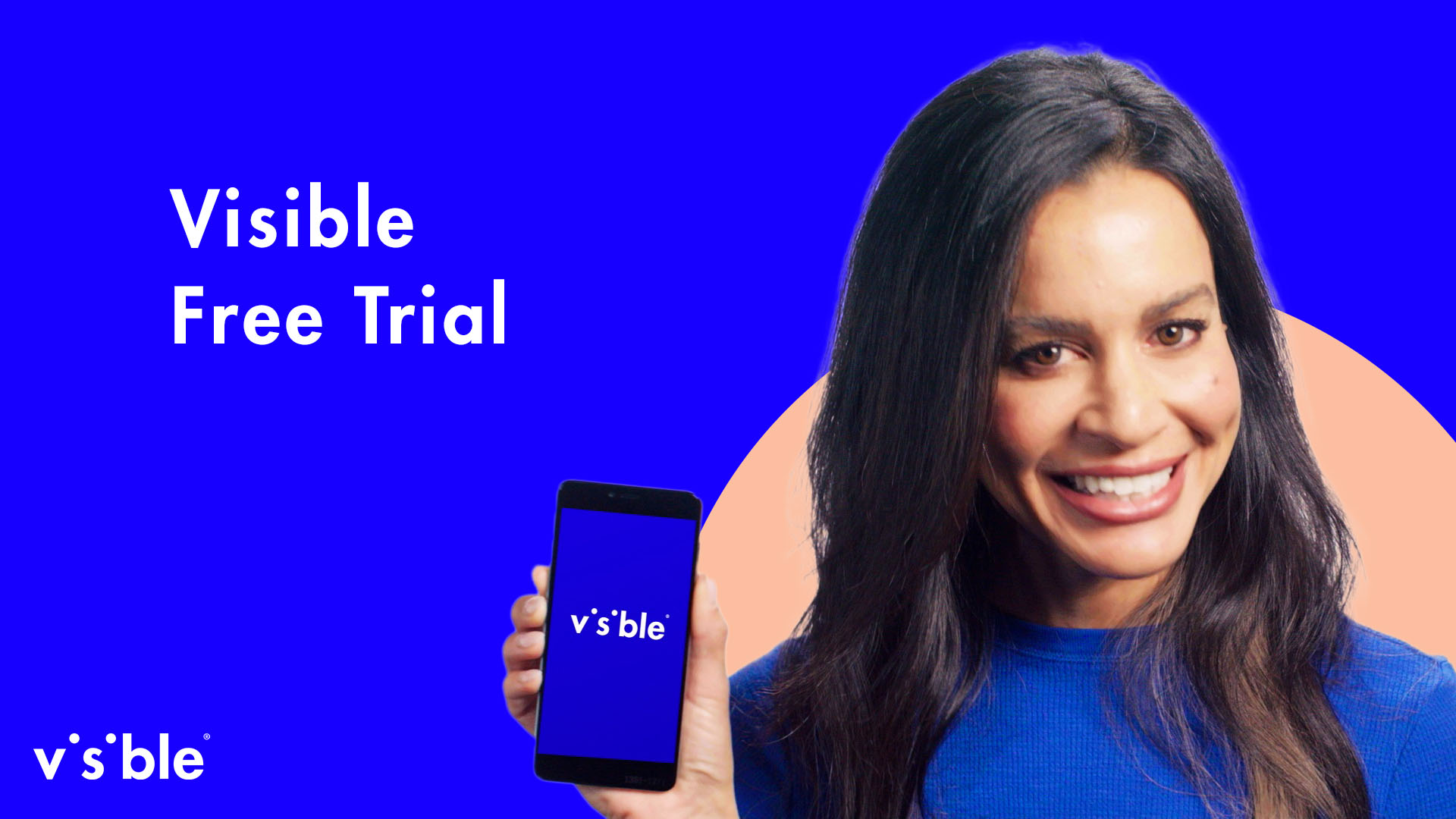 Take us for a (free) test drive
See how easy it is to fall in love with all the incredible features Visible has to offer while trying it completely commitment-free.
How to scan a QR code

Open the

Camera app from the Home Screen, Control Center, or Lock Screen.

Select the rear facing camera. Hold your device so that the QR code appears in the viewfinder in the Camera app. Your device recognizes the QR code and shows a notification.

Tap the notification to open the link associated with the QR code.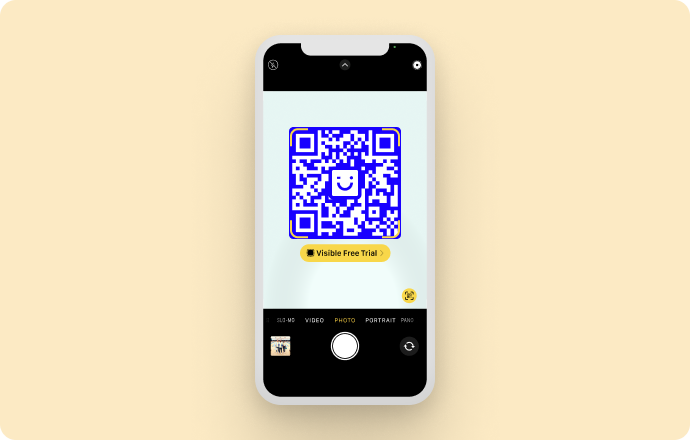 Get started by scanning
To begin the Visible Free Trial, open the Camera app on your iPhone and scan the QR Code.
Only compatible with:
iPhone 13, iPhone 13 Pro, iPhone 13 Pro Max, iPhone 13 mini, iPhone 12, iPhone 12 Pro, iPhone 12 Pro Max, iPhone 12 mini, iPhone SE, iPhone 11, iPhone 11 Pro, iPhone 11 Pro Max, iPhone XR, iPhone XS, and iPhone XS Max, that are running iOS 14+.

Get to know Visible
The Visible plan is $40/month, but you can get service for as little as $25/month when you take advantage of Party Pay. Learn more
One line of service
5 Mbps WiFi hotspot
Unlimited messages and minutes
WiFi calling on compatible devices
Unlimited data
No contracts or cancelation fees
We've got you covered
With over 99% of the U.S. population covered , there are not many places Verizon's Networks haven't been…yet.
FAQs
Visit our
help center
for more FAQs, or tap
here
to see our terms and conditions.
What is the Visible Free Trial?
The Visible Free Trial is a 15-day free trial that doesn't require a credit card to join. Get the full Visible network experience via eSIM, without the commitment.
Who is eligible?
Anyone who is not currently a Visible member, or someone that has not participated in the trial in the past 12 months. If you meet these criteria, then all you need is an eligible iPhone device with eSIM capability to participate.
Does the trial cost anything or is there a commitment to join?
There is absolutely no cost to participate in the trial, and there's no commitment or credit card needed to start. You can also end your trial at any time. The free trial is subject to Visible's terms and conditions and Privacy Policy.
Can I keep the trial number once I'm ready to join Visible?
If you join Visible, you can keep the trial number. The trial number is not available to be ported to another carrier or otherwise retained, so your only right to the trial number is to continue to use it on a paying Visible account, at which point you will have all rights to the number set forth in the Visible service terms and conditions.
After the trial, how much is the Visible plan?
Visible is $40/month, but you can pay as low as $25/month if you join a party through Party Pay.
Do I need to provide a payment method during activation of the free trial?
No, a payment method is not needed during the free trial period. But if you decide to become a Visible member after your trial, a payment is needed. See setup & activation for more payment details.
What do I need to join the free trial?
You need to have a device that is compatible with Visible eSIM and provide your name, email and zip code to get the Visible Free Trial.

No credit card information is required to try the free trial.